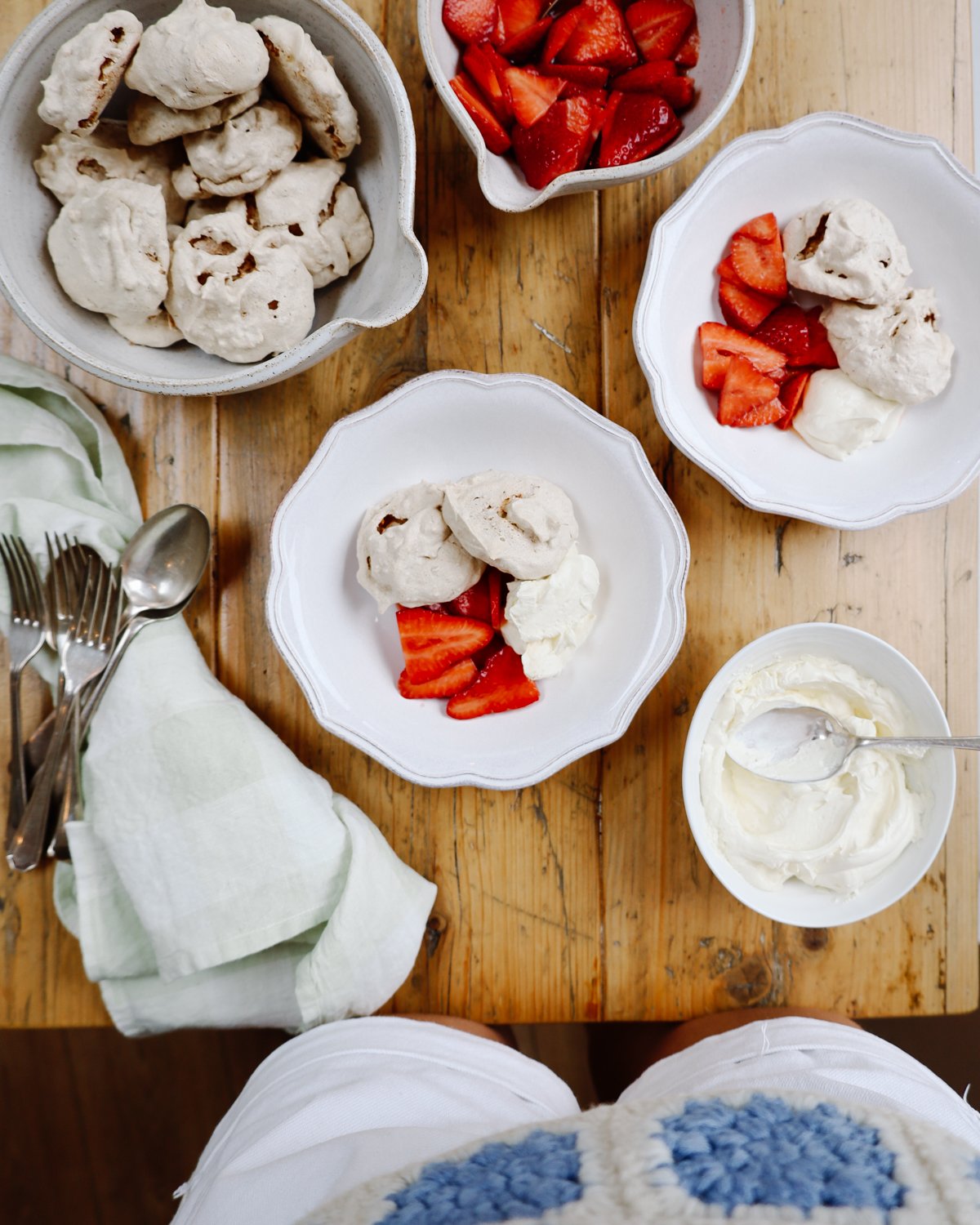 food for thought
Almond Meringues With Marscarpone & Strawberries
Alexandra Dudley is a chef, author and podcaster based in London.
Her podcast 'Come for Supper' sees her talk to chefs, restauranteurs, authors, actors and artists about their most memorable dinner parties, kitchen catastrophes and ultimate dinner party invitees.
She also regularly hosts a regular series of live audience conversations titled 'How to host a dinner party'. A sell-out success these events see her share her tips and tricks on how to effortlessly entertain and create the perfect evening.
Alexandra's recipe for Almond Meringues is 'spring in a bowl', perfect for entertaining or a lazy Sunday lunch.
Ingredients
4 egg whites
230g golden caster sugar
150g blanched almonds
1 tsp ground  cinnamon
150g mascarpone
200g double cream
2tbsp sifted icing sugar (optional)
300g strawberries
4tbsp Amaretto
Instructions
1. Preheat your oven to 150°C fan setting and line three baking trays with baking parchment.
2. Add the blanched almonds to a food processor and pulse until they resemble coarse breadcrumbs.
3. Place your egg whites into the bowl of a stand mixer (or you could use a hand whisk) and whisk until frothy. Then slowly begin to add the sugar, continuing to whisk until the mixture is stiff and glossy and there are no sugar granules remaining. You may need to scrape down the ball a couple of times.
4. Stir the cinnamon into the ground almonds then add this to the egg white mix and fold gently to combine.
5. Using two teaspoons spoon about a tablespoon of the mixture onto the prepared baking tray. Repeat, ensuring you leave at least 3cm between each one. not worry about them being messy, that is part of their charm.
6. Bake for 45 mins until firm to touch and slightly golden.
7. Allow them to cool on the trays then gently lift off.
8. For the strawberries, slice the strawberries and place them into a bowl with amaretto. Stir to combine then transfer to the fridge for at least an hour. Give them a final stir before serving.
9. For the mascarpone cream place all the ingredients into a bowl and whisk using a handheld electric whisk just until stiff peaks form. Refrigerate until ready to serve.
10. Serve a good scoop of the cream alongside the strawberries and 2-3 meringues per person.
find out more
Alexandra Dudley
Love this recipe? You can find hundreds of more on Alexandra's website, alongside details of her podcast, events and writing