In conversation
Ceri Lloyd
Ceri has kindly sent her responses in both English and her native Welsh.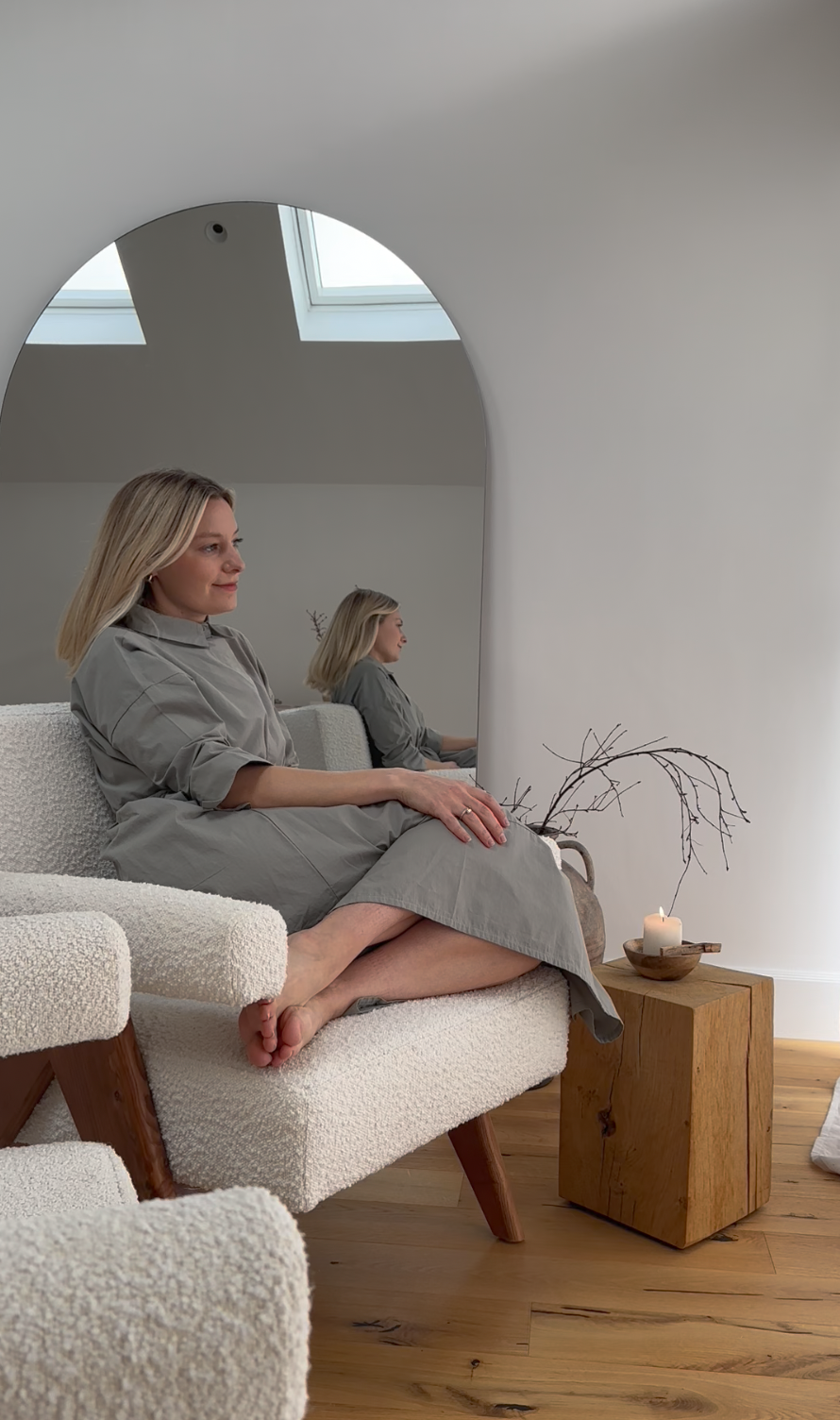 Hello Ceri, thanks for taking the time to talk to us can we start by telling our readers a little about yourself?
Of course! Hi, I'm Ceri, an actor, Yoga teacher and newly graduated health coach! I live in Snowdonia with my husband, Gwion, and cat, Grant, and we're all currently celebrating the end of our year-long home renovation! Phew!
What does mindful living mean to you?
ENGLISH
When I think of living a mindful life I think about making purposeful decisions that align with my values and also finding more moments where I can be completely present. Life is so busy and it's so easy to live on autopilot. It's also so easy to drop into a negative mindset and I think living mindfully can pull us out of those places and remind us of what is going well and how changing the way we feel is only one positive thought away. 
WELSH
Pan fyddaf yn meddwl am fyw bywyd ystyriol rwy'n meddwl am wneud penderfyniadau pwrpasol sy'n cyd-fynd â'm gwerthoedd a hefyd dod o hyd i fwy o eiliadau lle gallaf fod yn gwbl bresennol. Mae bywyd mor brysur ac mae mor hawdd byw ar 'auto-pilot.' Mae hefyd mor hawdd troi i mewn i feddylfryd negyddol ac rwy'n meddwl y gall byw'n ystyriol ein tynnu allan o'r lleoedd hynny a'n hatgoffa o'r hyn sy'n mynd yn dda a pha mor gadarnhaol yw newid y ffordd rydym yn teimlo.
If someone is thinking of starting yoga or meditation practice and don't know where to start, what advice would you give?
ENGLISH
I would begin with an intention and find the 'why' behind wanting to begin the practice. I've taught for 6 years now and if it's one thing I've learnt it's that Yoga is not for everyone. I believe everyone can and will benefit from the practice but it takes a little time and dedication to really start to feel a shift and enjoy it - as with everything!!! Finding your why and your intention can really give you the motivation you'll need on those days when you really can't be bothered to practice or those days when other things feel more important or life feels crazy hectic.
Once you've found your intention and 'why' then find a local class and try it out. If you didn't like it the first time, go again! It might not click for you straight away but I promise it will be worth it! You'll also find a beautiful community of people who will want to support and help you on your way which is just another amazing bonus to the practice. 
WELSH
Rwy'n meddwl fase dechrau gyda bwriad a dod o hyd i'r 'pam' y tu ôl i eisiau ymarfer yn help mawr. Rwyf wedi dysgu ers 6 mlynedd bellach ac os yw'n un peth rwyf wedi'i ddysgu, nid yw Yoga at ddant pawb. Rwy'n gwybod y gall ac y bydd pawb yn elwa o'r ymarfer ond mae'n cymryd ychydig o amser ac ymroddiad i ddechrau teimlo'r shifft yna a'i fwynhau - fel gyda phopeth!!! Gall dod o hyd i'ch 'pam' a'ch bwriad roi'r cymhelliant y bydd ei angen arnoch ar y dyddiau hynny pan does dim genie gyda chi i ymarfer neu'r dyddiau hynny lle mae pethau eraill yn teimlo'n bwysicach.
Unwaith y byddwch wedi dod o hyd i'ch bwriad a 'pam' yna dewch o hyd i ddosbarth lleol a rhowch gynnig arni. Os nad oeddech chi'n ei hoffi y tro cyntaf, ewch eto! Falle fydd e ddim yn brofiad anhygoel i ddechrau ond rwy'n addo y bydd e werth e! Byddwch hefyd yn dod o hyd i gymuned hyfryd o bobl a fydd yn eich cefnogi a'ch helpu ar eich ffordd sy'n fonws anhygoel arall i'r practis.
What are your go-to mindful moments during a busy week that help ground you?
ENGLISH
I've found that drinking mushroom coffee rather than a regular coffee in the morning has really helped to ground me. I have a lot of energy in the morning so sometimes drinking a regular coffee can send my cortisol levels through the roof, so choosing a matcha or mushroom coffee is such a lovely ritual for me now. 
I also love love love the outdoors. I'm lucky enough to live in such a beautiful place and just something as simple as stepping through the front door and breathing in some fresh air can instantly help me to feel grounded. 
Also, although I'm working, teaching my Yoga classes really does transform the way I feel. I get so much out of teaching and feeling the energy in the room or over zoom slow and calm down is amazing!
WELSH
Rwyf wedi darganfod bod yfed coffi madarch yn hytrach na choffi 'normal' yn y bore wedi bod yn help mawr i mi. Mae gen i lot o egni yn y bore felly weithiau gall yfed coffi anfon fy lefelau cortisol drwy'r to, felly mae dewis matcha neu goffi madarch yn ddefod mor hyfryd i mi nawr.
Rwyf hefyd yn caru'r awyr agored. Rwy'n ddigon ffodus i fyw mewn lle mor brydferth a gall rhywbeth mor syml â chamu drwy'r drws ffrynt ac anadlu rhywfaint o awyr iach fy helpu i deimlo'n ddi-sail.
Hefyd, er fy mod i'n gweithio, mae dysgu fy nosbarthiadau Ioga wir yn trawsnewid y ffordd rydw i'n teimlo. Rwy'n cael cymaint allan o ddysgu ac mae teimlo'r egni yn yr ystafell neu dros zoom yn arafu ac ymdawelu yn deimlad anhygoel!
We believe that clothing can be transformative, how does this resonate with you?
ENGLISH
I couldn't agree more with this statement! As women, we can be so hard on ourselves and critic and judge ourselves so harshly and I feel like clothing and what we wear is one of the most powerful ways we can gain our power back! It's a way of expressing ourselves but it's also a way of feeling more like ourselves. 
I also love how clothing can be a mindful choice and choosing to shop with Beaumont Organic is a way I can honor my values and this instantly makes me happy! 
WELSH
Ni allwn gytuno mwy â'r datganiad yma! Fel merched, gallwn fod mor galed ar ein hunain a beirniadu a barnu ein hunain gymaint ac rwy'n teimlo bod dillad a'r hyn yr ydym yn ei wisgo yn un o'r ffyrdd mwyaf pwerus y gallwn ennill ein pŵer yn ôl! Mae'n ffordd o fynegi ein hunain ond mae hefyd yn ffordd o deimlo'n debycach i ni ein hunain.
Rwyf hefyd wrth fy modd â sut y gall dillad fod yn ddewis ystyriol ac mae dewis siopa gyda Beaumont Organic yn ffordd y gallaf anrhydeddu fy ngwerthoedd ac mae hyn yn fy ngwneud yn hapus iwan!