In conversation
Emiko Studios
We talk with Coral Murphy, the founder of Stockport-based brand, Emiko.
Hello Coral. Thank you for taking the time to speak to us. Can you start by telling us a little about your brand, Emiko?
Hi! Emiko is a slow fashion brand for adults and children, we make all our clothing from start to finish in our micro-factory, set in our store in Stockport. We use natural and recycled fibres only, and our styles are unisex, generally an oversized fit, inspired by Japanese silhouettes and vintage patterns.
What was your background before starting Emiko? How did this background help you, and what are some of the key skills and lessons have you learnt through starting your own business?
I taught myself how to sew from a young age as I loved vintage clothing and was very petite. I wasn't very good at it at that point but with a ruthless mentality of chopping hemlines, I learnt from my mistakes. I then studied Fashion Design at Brighton University, where I found a love for pattern cutting, and creating beautiful details within designs.
I worked a short period in Bangladesh as a garment technologist, witnessing fast fashion first hand and then giving up on a career in Fashion altogether. I was then stuck in retail with no progression so decided to make a big change and move to Hong Kong, teaching English to children, I then met my partner and we built a family over there.
Once I had Emi (Emiko is named after her), I struggled to find children's clothing that wasn't polyester or pink or blue or plastered with unicorns or cars. So, this gave me the buzz to get making again.
After starting out I spent 2 years making just a handful of sales, selling at markets and continuing to feel disappointed that I wasn't doing the right thing. After moving into adults clothing I started to gain more confidence in myself. I didn't have a plan to build a micro factory or have a store, but here we are now, continuing to learn from mistakes.
We love that your clothes are made to order. Why did you make the decision to run Emiko in this way?
Online we have always run made-to-order only, ethically there was no reason to mass produce and then go into sale, as a very small business starting out financially we couldn't commit to huge rolls of fabric either.
Made-to-order has always worked well for us, it gives the customer the opportunity to make slight adjustments too, longer hemlines or changing the fabric etc.
We recently changed to a made-to-order store, which was a huge risk, the general public would no longer be able to purchase something in-store and take it home the same day. The reason why I made the decision to do this was because there was too much pressure to have the time and materials to fill the shop floor, and it was the norm for a clothing shop, but we can make our own rules as a store that can make clothing on site.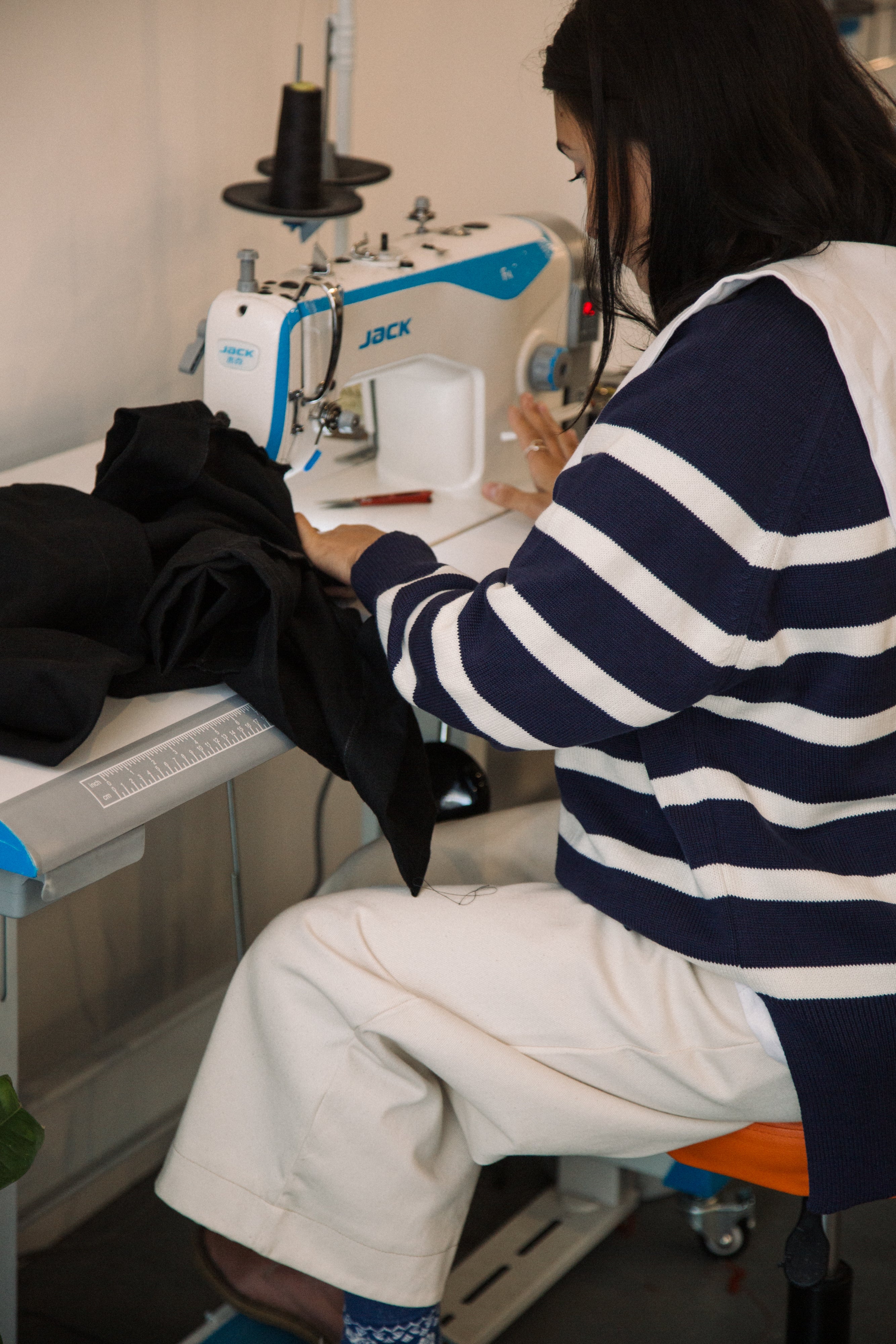 How important is sustainability in the way you live your life outside of your business?
My experience in Bangladesh was pretty eye-opening, so I tend to steer away from fast fashion and that's why it's so important for us to have a happy team that's paid well for their skills. After having my daughter I thought about things differently, and needed to make these commitments to buy ethically and produce ethically for her future too.
We believe that clothing can be transformative, how does this resonate with you?
When you wear clothing you love it makes you feel more confident, like you are your best self. I want our customers to feel on top of the world wearing our pieces. I also think comfort is a big thing, with breathable, soft linens and cotton.