MINDFUL MOMENT
April - Fashion Reimagined
Fashion Reimagined is a new independent documentary following the story of Mother Of Pearl's trailblazing creative director Amy Powney as she embarks on her mission to create a sustainable collection from field to finished garment.
To celebrate the April 9th release on Sky Documentaries and streaming service NOW TV, our CEO Hannah Beaumont-Laurencia caught up with Amy Powney.
Can you give us a glimpse of what the documentary is about and who is it for?
The documentary is about my mission to create a fully sustainable collection for Mother of Pearl, called No Frills.
Created by the incredible Becky Hutner it follows me and my Brand Manager Chloe Marks as we try to get to the bottom of the supply chain so we can produce a collection which is organic, traceable, socially responsible, considerate of animal welfare, uses minimal water and chemicals and is produced in the smallest geographical region possible.
We had to get down onto the ground for ourselves and see first-hand what it takes to piece this huge puzzle together. It was not easy. The fashion industry is a system which simply does not allow itself to be naturally transparent and so we had to do that on our own through
sheer determination and hard work. We often hit roadblocks, but I was adamant that if I could not make Mother of Pearl a sustainable brand which was grounded in its ethics and offered full transparency, then I would not do it.
So, the documentary is really for anyone who wears or makes clothes. I don't think consumers know what it takes to make their clothing or that, quite often, their clothes are more well travelled than they are before they land in their closet. So hopefully it will be informative and encourage people to rethink their approach to their wardrobes or how they produce things.
What was your favourite part of the documentary filming process?
I think it is how Becky has captured the personal side of my story.
Supply chains can be a very boring topic but how she wove in my background and upbringing made it more moving.
If the caravan kid can do something, so can everyone. My favourite quote and what I live my life by is: "I always wondered why someone didn't do something about that, then I realised I was somebody."
I think it is also nice that my children can look back on this when they are older and see what I was like when I was younger, what drove me and show them that I fought to make the planet a better place for them.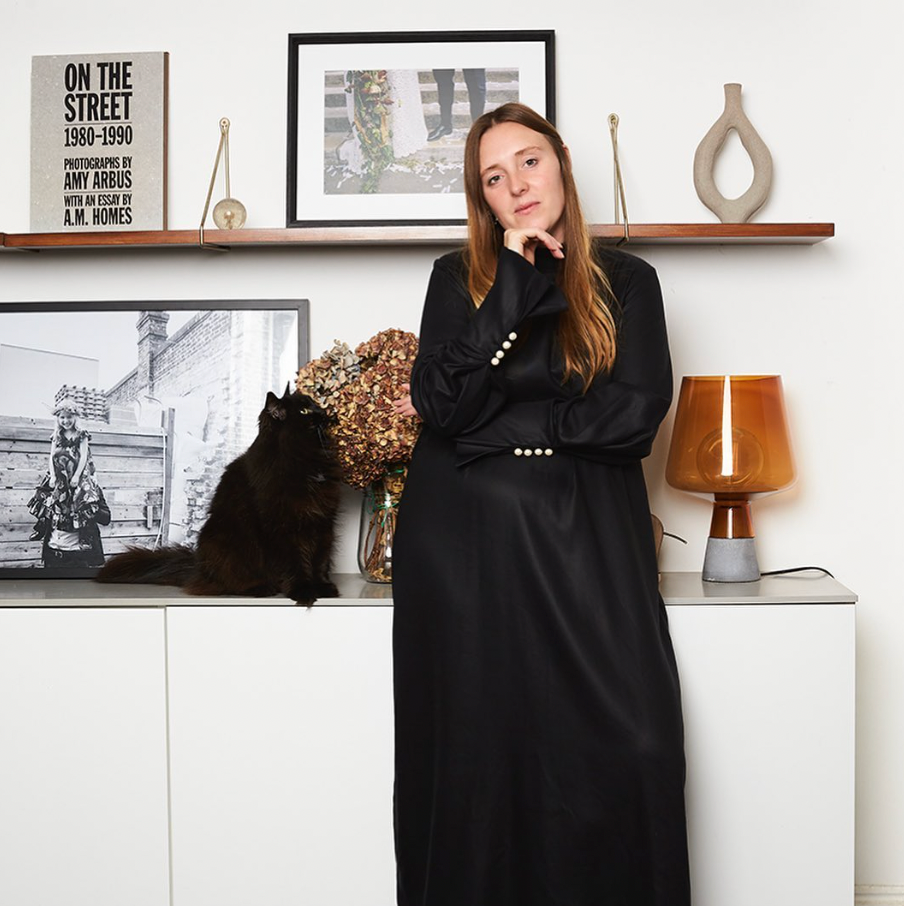 Do you think it is the responsibility of the consumers, the brands or the government to enable fashion to have a more sustainable future?
I think it's everyone's responsibility, we all live on this planet, and we all consume in one way or another.
I hope it opens the eyes of the consumer and encourages them to ask questions, to demand more from the brands they shop from, across all areas from fashion, to furniture, to food.
I hope that they are inspired to make better and more informed choices. If I can change one person's mindset, then the work we do and the film have succeeded.
Secondly, I hope it is the starting point on a very long road to change at a legislative level.
I'm fully aware that what we have done, and one film is not going to change an entire industry but we're at a point, with the climate crisis, that change may come too late.
Difficult decisions need to be made now to ensure we are regulating the industry to take into account its impact on the planet and its people.
The EU and the US seem to be making some good steps forward, but the UK is falling behind.
I also think that brands and businesses which are truly trying to work in green and ethically sound ways should be given support at a business level, and incentives to continue to do what they are doing.
This should not just be particular to the fashion industry but across all creative and manufacturing industries. Businesses need to be encouraged to make the right choices and that comes from a legislative and government policy approach.
How feasible do you think it is for a well-established non-sustainable fashion brand to pivot to sustainable? 
We're a small brand and if we can do it, anyone can do it. These bigger brands have more money, more buying power and more resources available to make these changes if they want to, it comes down to their desire to change.
One of the biggest challenges we now face is greenwashing, it is endemic in the system today and brands use this to confuse the customer and exaggerate their sustainability credentials.
I'd like to see 'transparency' become the main vocabulary and an industry where brands are open and honest about their journey. Where they give a real insight into the progress they have made and where they want to improve, putting knowledge and choice back into the consumer's hands.