In Conversation: Andrea Hilgers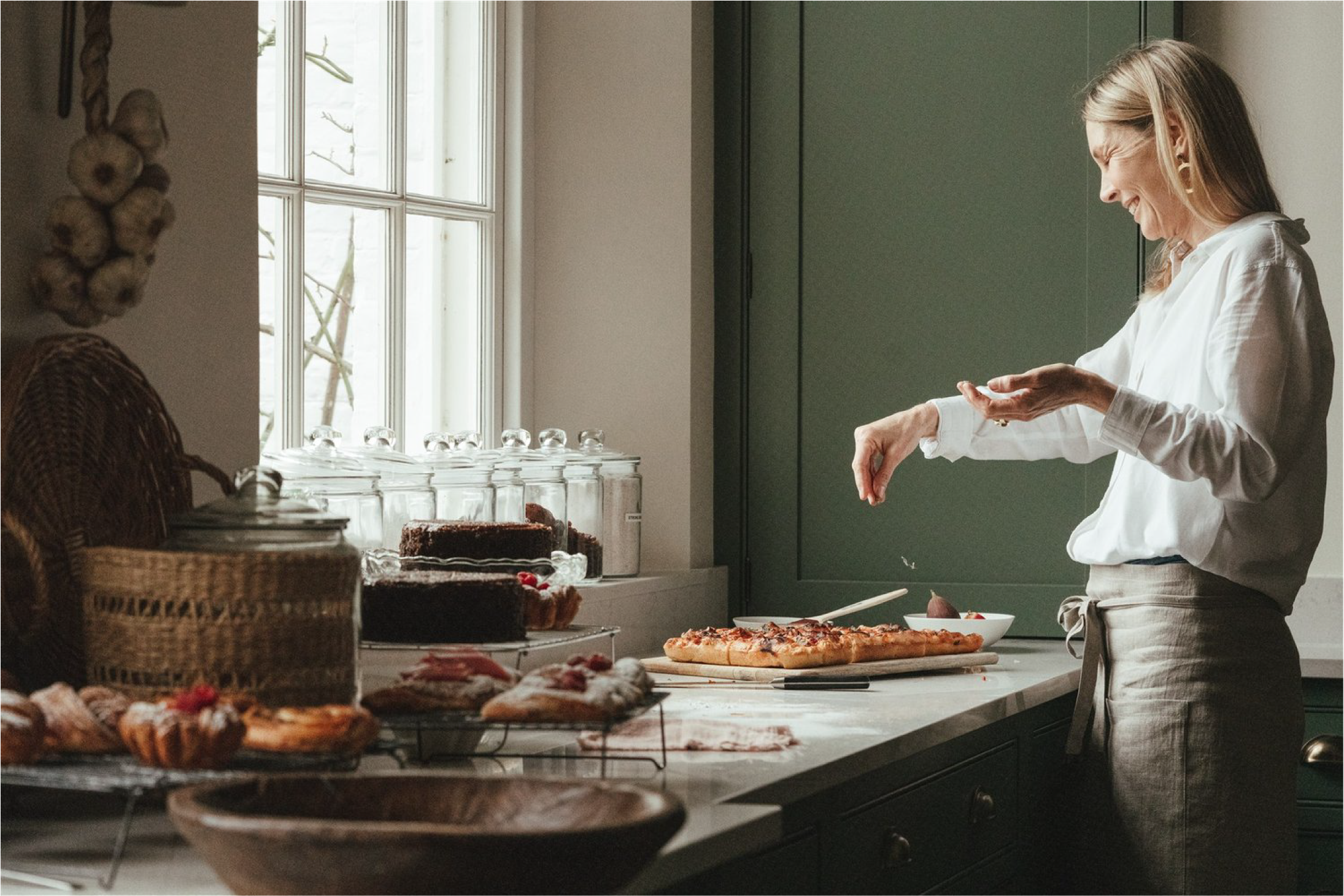 Pomalo founder Andrea talks to us about organic food, slow living and creating her own business.
Thank you for taking the time to chat to us Andrea! Can we start by you telling us a little about yourself?
I am originally from Germany, but have spent the last 20 years living in many different countries with my family of 5. I spent 10 years in Australia, Amsterdam and now the UK and I am very lucky to call Soller/Mallorca my second home. I grew up in a family where creating elaborate meals for friends and family was part of the fabric of our home. I was involved in cooking from the age I was old enough to hold a spoon. Given my background you could say that hosting and cooking is in my blood.
In 2019, shortly after moving to the UK, I started on a journey of learning, discovering, exploring, cooking, baking and nutrition. My dream then was to open my own little café one day. I trained at Leith's in London, hold a Cordon Bleu London diploma in boulangerie and trained with Bettina Campolucci as a retreat chef.
Pretty quickly after moving here though, we found ourselves in the midst of a pandemic. Hardly having any connections in a foreign country created a double sense of isolation. We missed community, friends, family and easy city life in general. But having lived an expat life for the last 16 years prepared us for almost any unfamiliar situation.
Living abroad, we had to create our own community over and over again, almost like building a family of friends. And whilst this might seem daunting, there is some magic in it!
So what if, I thought? What if we could do exactly this? Create a community? Open up our home as a place for the curious, the kind and open minded? Somewhere to pause and connect, where ideas and food can be shared, where we learn together, cook, feast, celebrate, where we embrace the seasons and welcome everyone with open arms - and from there, Pomalo was born. I still don't know 100% where the journey will go, but this is part of the joy. Every day seems to bring a new opportunity and we are still very much evolving as a business.
A slower pace of living (and shopping) is at the heart of what we do - what does slow living mean to you?
After years and years of living a very fast pace lifestyle and moving over and over again, our family was desperate to create a forever home. Somewhere away from the hustle and bustle of city life to find some calm, pause and breath. I wanted my children to appreciate the smaller things in life, connecting with nature, knowing where our food comes from. Appreciating beauty in nature, homegrown and fresh food, wonderfully sustainable crafted clothing - this is what slow living, connecting as a family, this is what slow living means to me.
Personally, as an introverted extrovert, I need a slower pace of living to recharge. For me this is all about being in nature, going for a walk, taking in the beauty of my surroundings, smelling the fresh air, an early sunrise. It's about being present in the moment, which has become rather difficult in today's world, as we are always on our devices, always reachable, always on!
And me being a rebel, I am trying to move away from it at times. Even though I know social media is important for me as a business, every summer I take three weeks off - I don't post, I don't look at my phone, but instead enjoy my family and our precious time together and my children over the years value this precious time more than anything. It's our thing!
We should all try to have a seasonal-based diet - how can we affordably do this and why is it important to you?
I am in a very lucky position that when it comes to food, I don't have to budget as
much and I know the main argument for people not to buy organic and fresh food is that it is expensive and they don't have the time to prepare it. And whilst I do agree that it might initially be a bit more of an effort to shop and cook sustainable and local, like everything, it will become a habit and once you have created it, it will get easier. But it takes commitment and time.
The most affordable and easiest way to eat a seasonal based diet is to subscribe to an organic veg box or source your local farm shop, but the main point to make it more affordable is planning out your meals.
See what's in the box and then make a plan what meals to prepare with it throughout the week. I google recipes by ingredient and then get creative with them. Eating less meat is another alternative to making a seasonal based diet more affordable. Keep it as a treat for a Sunday and then buy and extra nice piece of meat. Stretch your seasonal vegetables with a lovely pasta or rice, some lentils, there are so many different ways.
Seasonal and ideally organic food is very close to my heart. Whilst living in Australia, I struggled with some health issues and dived deep into the world of nutrition and food as medicine. It is so utterly important what we put into our bodies and once I started eating this way, I never considered going back.
My body just can't cope with all the chemicals anymore that are present in almost any packed and ready made meals. Food tastes best when its in season plus it is more affordable at that time of year. A nourishing diet makes for a happy and healthy life and I wouldn't have it any other way!
As an entrepreneur, what are the best pieces of advice that have been given to you that you would like to share with us? Or just your own top tips!?
My business is still pretty much in its early stages, but already I had to adapt and rethink it over and over. My biggest piece of advice would be to listen to you inner intuitive voice. Starting this business, or probably any small business, lots of people that have well meant ideas, telling you how you should be doing it, how they would do it and so on. As valuable as advice from others is, in the end, it's important as an entrepreneur to find your own unique way of doing things, even though it might be at a slower pace or in a different way than initially planned.
Another piece of advice would be not to execute too many ideas at once, which is what I was trying to do in the very early stages of this business. My excitement took over and I wanted it all to happen very fast. A small business needs time to grow and evolve organically and in a way it took me on a journey slightly different from where I though it would be going, but in a totally wonderful kind of way.
Networking, forming connections with other small businesses is another important part of owning a small business. Being an entrepreneur can feel lonely at times and it's important to have a community to exchange ideas and for support!
We believe that clothing can be transformative - how does this relate to your everyday life?
I totally agree with this. Wearing well-made clothing makes me proud to be wearing them. Knowing they will last for longer than a summer or a holiday makes me happy. I have a few pieces of very well-made summer clothing for example and - given the weather in the UK - I put them away in a box over winter and get all excited when I pull them out again the next year. They carry with them the memories of summer holidays well spent and I love wearing them over and over again.
I carry myself in a different way wearing well-made clothing. For me, texture is very important in everything, be it in food, interior design or in clothing. Wearing a luxurious cashmere jumper or an organic cotton dress just has a completely
different feel compared to wearing a polyester piece. It's the same as with food. It's a way of taking care of yourself as well as taking care of the environment.