In Conversation - Emma Beaumont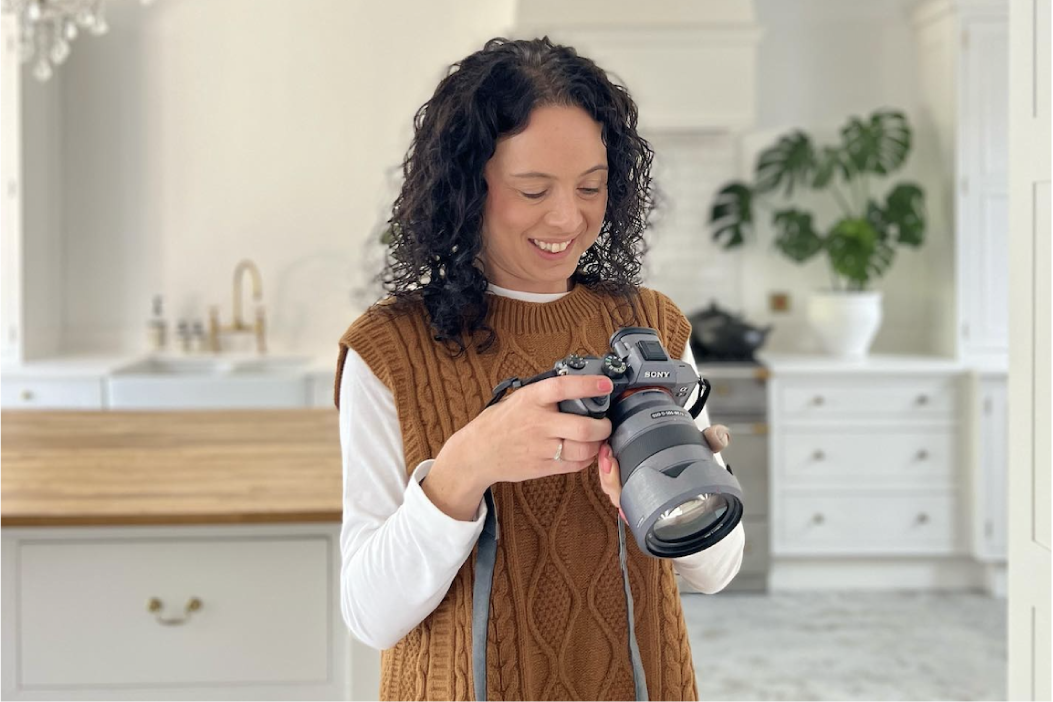 Emma is a lifestyle photographer, who loves capturing special moments in people's lives and helping brands tell their stories.
Hello Emma, thanks for taking the time to speak to us. Can we start by telling us a little about yourself? Hello. Thanks so much for having me!
My name is Emma and I'm a professional photographer, born and bred in Manchester. I specialise in Brand and Lifestyle photography, helping business owners tell their stories through bespoke on brand images, as well as shooting events and weddings. I'm single and live in lovely West Didsbury, which for me is the absolute 'location location location'. My journey to becoming a photographer started a long time ago, when I was a little girl really; I've always loved taking photos. My mum still reminds me about the thousands of photos and negatives she has in my old bedroom (it was very much before the digital era)! For me it's always been about capturing a moment that would otherwise be lost forever, literally freeze-framing memories.
 

I think that's one of the reasons I love it so much; I'm a very sentimental person and photography for me is a snapshot of real life, real emotions, and creating a document of history… I haven't always been a photographer though. I actually worked in corporate TV and radio for over 15 years, living in London for 10 years, before taking the leap into professional photography. For many, the leap I took may have seemed rather non-sensical - I had a pretty big, senior job, heading up a cross-territory department, working on lots of great TV shows, in a very fast-paced, constantly changing and evolving world of broadcasting and tech. I loved it, and I have no regrets at all, but the corporate world was starting to take its toll. When I left London, the most important thing for me was work-life balance, and I was determined to create it.

 

The saying TV never sleeps really is true and the hours I worked just weren't sustainable. It came to a head a couple of years ago and I decided to put my health and wellbeing first, and try and make it as a photographer, something I'd dreamed of but never dared to believe I could actually make happen. Now, not only do I have work-life balance but I'm doing something entirely creative, which I love, and I feel so lucky that my work allows me to meet and work with so many different and inspirational people.

 
What drives you creatively as an entrepreneur?
I've never been one for following the norm so anything that is outside the box and a little different tends to drives me generally. I'm driven mostly by helping people, which has always been paramount to me, and my passion for my craft, and of course the fact that I'm creating my dream journey; I have a long list of places and people I want to photograph!
What advice would you give to someone starting their own business, or working for themselves?
Be patient! Rome wasn't built in a day. We tend to be our own worst enemies when it comes to achieving things in life and as humans, we find it easier to focus on the negatives than to celebrate the positives and the wins, which is very very easy to do when you're first starting out building your own business. It might seem like you're just pushing mud up a hill and not getting the results you want sometimes, but it takes time to get your name out there, for people to get to know, like and trust you, and ultimately want to do business with you. Every business is different but nowadays, people want to know the people behind the business, not just what services or products you offer, and that takes time to build.

 
I'd also advise surrounding yourself with like-minded people. Whether that's through networking and peers with similar businesses or family and friends who support your vision and help motivate you and build you up; having positive influences is really important, especially on days where you feel demotivated or have setbacks. Finally, don't let imposter syndrome or self-doubt creep in so much that it risks ruining your dreams - I really believe self-belief is most of the battle.

Creativity and wellness can often go hand in hand, what solace do you find in your work?
I often find it quite ironic that my job is also the thing which I do to release any stress I have and relax. My favourite thing to do when I need to clear my head is to go out with my camera and shoot for fun. This was one of the reasons I made the leap into going professional, because of how I feel when I'm shooting; even the most stressful shoot could never compare to my average day 10 years ago! Of course it's slightly different when I'm photographing a client or an event, but my focus is still the same, on the shots; everything else leaves my mind, which for me, is quite the solace when my brain rarely ever stops creating lists and telling me what I've not done yet!
I focus so much on the shot that people often speak to me and I literally don't realise they have. I'm also a people person, and being single, I often miss human connection, so to have a job where I connect with so many amazing people so much and get to know them and their businesses, is a huge solace for me. I was shooting a surprise birthday party the other week and had everyone telling me to just stay and enjoy myself by the end of my shift; I pride myself on being warm and open which is very important in my work too.

 

We believe that clothing can be transformative. How does this relate to you and your everyday wardrobe?
I definitely agree! I remember during lockdown, I was putting on full on evening attire at one point to go to the supermarket just to feel like I'd dressed up for something and felt nice! I know I wasn't alone in doing that. My every day wardrobe has changed a lot over the years. Nowadays my everyday wardrobe is far more relaxed compared to what I used to wear in my old corporate job, but it's entirely in line with my work and life changes. I always say I do a very good smart casual, because that's always my usual attire; I always like to look presentable and wear clothes that make me feel nice, I just ensure comfort is also more significant nowadays; it would be tricky for me to crouch and squat for shots wearing some of my old work dresses! I would never wear anything that didn't make me feel confident!

 
EMMA IS WEARING
Pippa Vest in Tan with Shoba-Jane Top in White
Beth Top in Brown Marl
Kirstin Jumper