in conversation
Hazel Gardiner
We chat with Hazel about how green spaces are both inspirational and beneficial to our minds and health.
'Certain items hold huge sentimentality and memories, much like the plants in my garden."
Thanks for taking the time to speak to us Hazel, can we start by you telling us a bit about yourself?
Thanks for having me! I'm a floral artist and gardener who founded my Hackney based floral design studio, imaginatively entitled, Hazel Gardiner Design in 2016. With both of my names being botanical, it seemed I was destined to work in horticulture although it was after a turbulent health scare that I found myself drawn to gardening and took the decision to retrain in professional floristry.
We produce imaginative floral arrangements for events, installations, workshops and everything in-between. We're also passionate about working with British flowers both fresh and dried that are responsive to what's happening in the fields of our suppliers.
We see every part of nature as decorative and often use edibles, indoor and outdoor plants in our work. I'm also a TV and radio broadcaster, writer and content creator passionate about educating the next generation and furthering inclusivity and diversity within the floral industry along the way.
As an entrepreneur, what drives you within your industry and everyday working life? And what are your goals for the year ahead?
Previously I founded a vintage clothing and events company, being an entrepreneur seemingly is where I feel comfortable. Although not without it challenges, I enjoy the autonomy and satisfaction of creating smiles and changing moods through nature.
My approach to floral design goes much further than the final product. I consider the process of creating with my hands as mindful and restoring. This, alongside my innate love for beautiful and fragrant blooms, drew me into the industry. I am an advocate of floristry as an artistic skill over hobbyist profession. It's important that people know it's a viable career choice that is sustainable.
The perpetually changing seasons and yearly expanding floral varieties means that I am continually learning and evolving, perfect for my busy mind. No two days are ever same in the studio, we are lucky enough to work with some incredible brands and artistic individuals. All our concepts start with a narrative, our arrangements need to tell a story and project a certain emotion. This is our starting point whether we are producing large scale installation such as the letters for the 2022 RHS Chelsea Flower Show or vases for an intimate press dinner.
Next year there are exciting projects which sadly can't quite speak about. Broadly I want to continue my diversity and young audiences work as a Trustee of the Garden Musuem in Lambeth and champion the young artists we work with such as Damsel Elysium.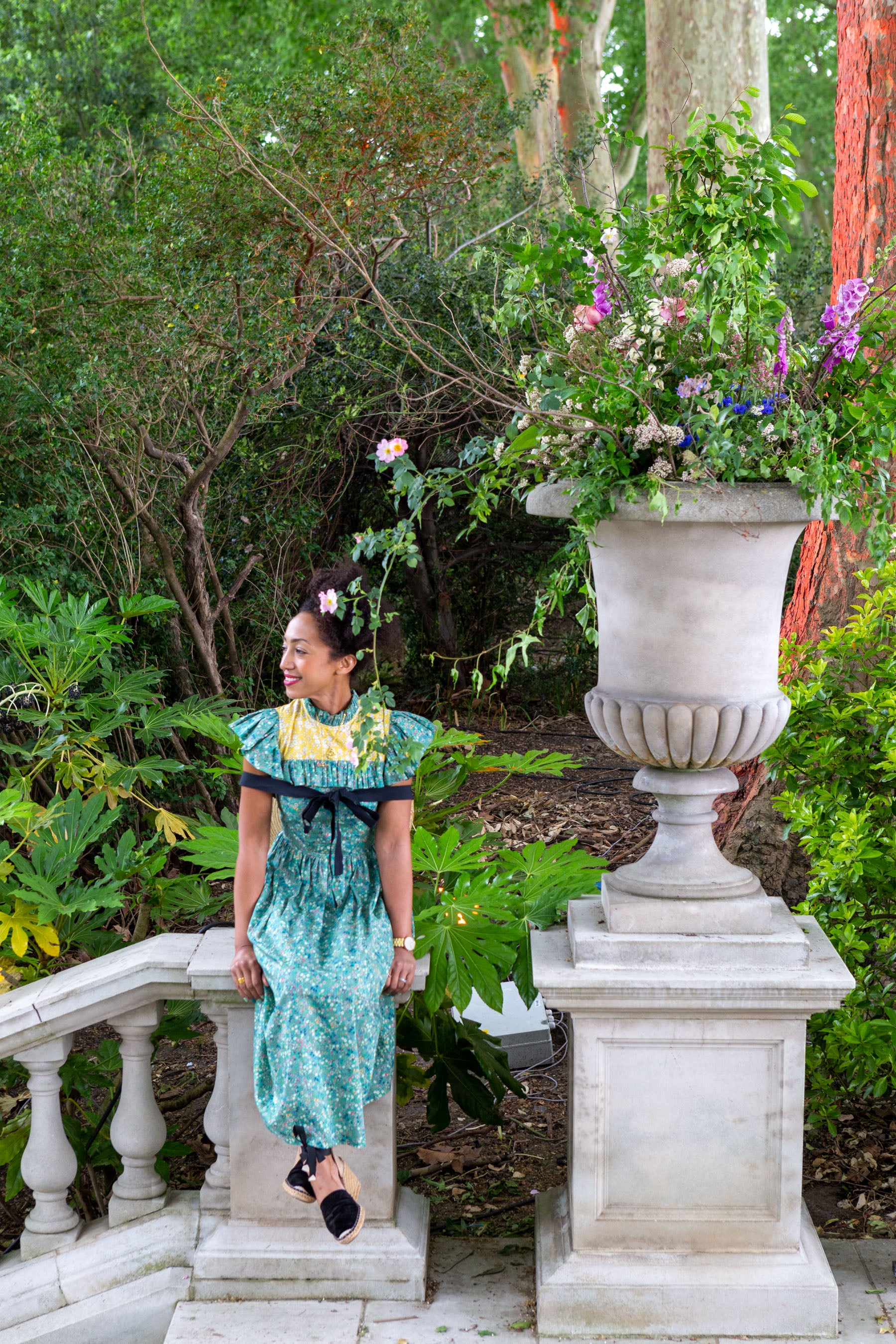 What advice would you give to someone wanting to get more 'green-fingered' but who doesn't know where to start?
That was me back in 2007! I did have exposure to gardening as I was privileged enough to watch my mother brilliantly bring to life the borders of our garden, she is a unique talent.
I know that for many this is not the case but especially in the last 3 years I've had many more requests from those seeking to find their way into horticulture. Some for an escape from a stressful and damaging career, others drawn to nature due to loss or personal trauma.
I always say the best thing you can do it stop ruminating and begin. Many people feel gardening, or floristry is too overwhelming due to the wealth of information and knowledge.
Like anything in life, you start small and then build up your knowledge gradually. Work out where and why you want to bring green indoors and outdoors, how much time you have to maintain your plants or gardens, which direction your growing space faces, and understand your soil and climate.
This information is much more important than worrying about remembering Latin plant names. The beauty is that every professional is continually learning, this is the joy.
YouTube and Instagram are fantastic for free resources when you're stuck. Instagram accounts like @pollyanna_wilkinson @awesidefarm @grow2knowcic @jackwallingtonnature and @cloudgardeneruk are inspiring, educational and accessible.
How do you find time for calm and self-care in a busy world, and are outdoor spaces important for your wellbeing?
I realise that a job in floristry can be contradictory for my pursuit of balance and calm. It can be a fast-paced and high-pressured environment. Self-care is not selfish, when you own your own business it's paramount, you're aware of your physical and mental health.
Even though it can be tricky, I do put importance on my making sure I don't reach burnout by scheduling my time well, setting boundaries and keeping to routines.
I love TRX and Pilates, both help manage stress and strength, important for a very physical job. I'm an avid reader before bed which really helps switch off my mind. I'm also strict about when I pick up my phone in the morning and put it down at night. I have an amazing team which makes everything more manageable and a goldendoodle who enforces welcome breaks.
Gardening is my sanctuary, although at times when the studio is busy it can feel overwhelming to tackle a growing list of garden tasks. Many of us don't have our own private outdoor spaces. I always suggest getting outside wherever you're in a city or the countryside.
A pause is beneficial but only works if you engage with the outdoors. Put your phone away and look around as you walk, listening with intent helps to quite racing thoughts, reaping the restful benefits.
"I realise that a job in floristry can be contradictory for my pursuit of balance and calm. It can be a fast-paced and high-pressured environment. Self-care is not selfish, when you own your own business it's paramount, you're aware of your physical and mental health."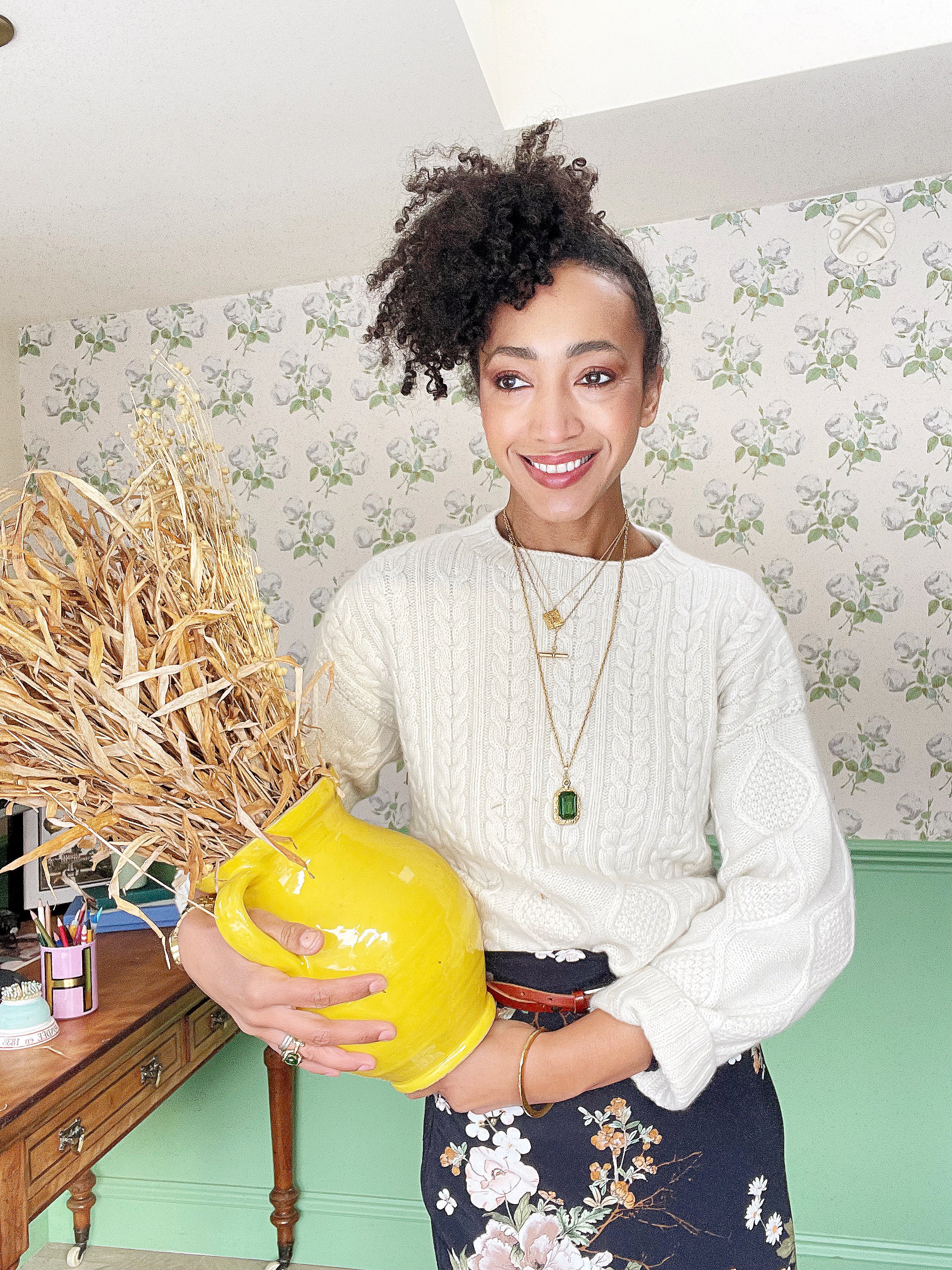 We believe that clothing can be transformative, what does this mean to you?
As someone who has been a fashion fanatic from a very young age this rings true for me. Many times, in my younger years, I had to fake confidence. This pursuit I don't agree with now as it's much healthier to truly believe in yourself, helping you to recognise and appreciate your successes and get through trying times.
Clothes to me are a huge part of my personality, they change my mood. Metamorphosing my external appearance does the same for my internal thoughts. I love the process of dressing up, even if only going out to walk the dog.
My cosy clothes at home are still coordinated with great design details in quality fabrics, which is why I'm drawn to Beaumont Organic pieces.  Colour, not surprisingly to those who look at our Instagram feed, also plays a huge part in changing and upholding my mood.
A great outfit can make my difficult days happier and cold days warmer, literally, and emotionally. I haven't really changed from childhood where I dressed up my younger siblings. I feel like I'm doing the same thing, curating outfits, and telling stories through clothes.
Certain items hold huge sentimentality and memories, much like the plants in my garden.