In conversation
Katy Smail
The Scotland-based illustrator and painter talks to us about drawing inspiration from the natural world around us.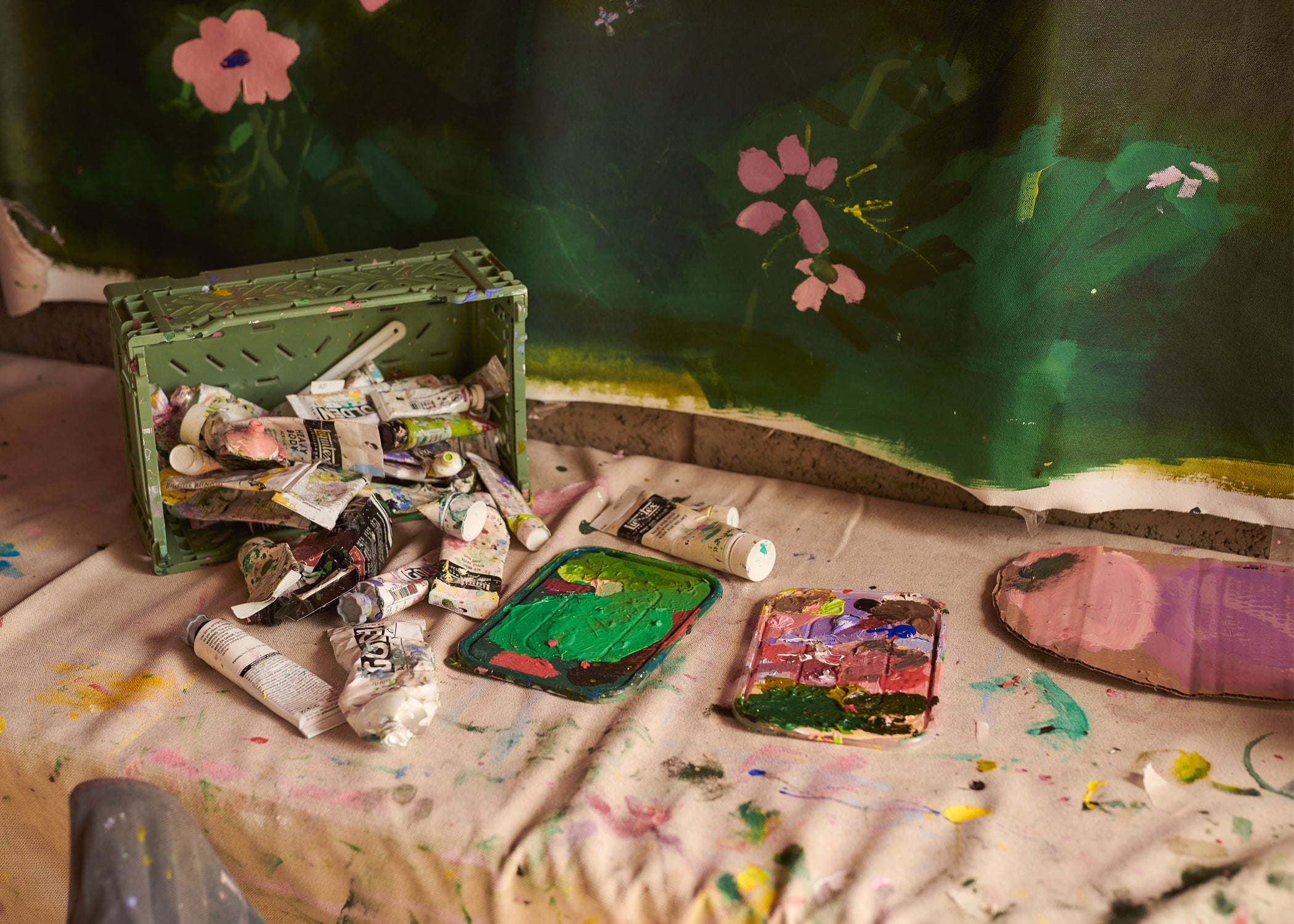 Hello Katy. Thank you for taking the time to speak to us. Can you start by telling us a little about yourself and your work?
Thank you for having me!
I was born and raised in Scotland, studied Illustration at Edinburgh College of Art and then moved to Brooklyn, NY where I lived for ten years and started my career as an illustrator, painter and fashion art director. After some bouncing around I am now back in Scotland with my husband and our young kid, happy to be surrounded by wildflowers and purple hills again. As an illustrator, I work on different kinds of projects and am often hired for my florals - in the past, my illustrations have been used across publishing, homewares, fashion and beauty brands. My painting practice is more personal and is something that I have really developed since the pandemic. My work is all about colour and dreams and Mother Nature and feminine energy. I hope that my paintings bring feelings of peace and joy. 
Your portfolio features a real variety of landscapes, florals and portraits. How has your style evolved over the years, and where do you find inspiration for your current work?
When I first began working as an illustrator my style was much more detailed and precise; over the years I have loosened up and become more physical and expressive with my work. A big part of that has been letting go of perfectionism and falling in love with colour and paint. My inspiration can come from many different places - colour combinations are often a starting point -  but I always come back to the natural world. I am always looking for ways to capture the magic of Mother Nature and celebrate the wild beauty of our planet.
What does an average day look like for you? Do you try to stick to a routine, or do you find each day is a little different?
Every morning is a little chaotic with my four-year-old. On the days that I have childcare, once he is at nursery I try to reset and ground myself with some yoga and tea before I start work. Other days it is family time. Workwise, every day feels different; some days I am in the studio painting, sometimes I am developing illustration projects and sometimes I am at my desk tackling emails and packing up paintings to send out. I love the variety. Mostly it is about trying to be productive and creative in small windows which can be challenging. I always try to go for a walk at lunchtime to clear my head or connect with a friend. We are living in the countryside at the moment and a lunchtime walk can often be the starting point of a new painting. After I pick up my kid it is more chaos until he is in bed and then it is my favourite part of the day - reading my book in the bath. 
How important are sustainability and mindfulness in the way you live your life and approach your work?
Both feel important to me, but I also know am not perfect. I try to live as sustainably as possible and make ethical choices as much as I can. I connect with the natural world as much as I can - through walks, herbal medicine, organic beauty products, and painting flowers. Mindfulness has become much harder to access since having a kid but when I do set aside the time to take care of myself I am a much more patient mother and better able to handle the stresses of it all. So I try to do something grounding every day - even if it is just 10 minutes of yoga or a bath. In my work, I like to explore connections to our intuition and innate wildness which are so challenged by this society of technology and social media that we live in. Painting itself is a very mindful practice for me - the subject matter is often just a starting point for what becomes a meditation on my feelings. Painting and yoga are really the two places where I am most able to get out of my thinking brain and into the moment. There are also times when I have physically put down my phone which helps a lot!
We believe that clothing can be transformative. How does that resonate with you?
Yes, I believe that too. I have always loved clothes; sometimes the combinations of colours and patterns and moods feel as creative to me as painting. I have worked in fashion on and off for many years and a lot of my inspiration comes from fashion imagery. I love the dress-up of it all - the make-believe and the characters we play when we get dressed in the morning. Even if it is just a painting uniform of old shirts. Clothing can be such a source of joy and I am always trying to make room in my life for more joy.