Real Women Series: Meet Jan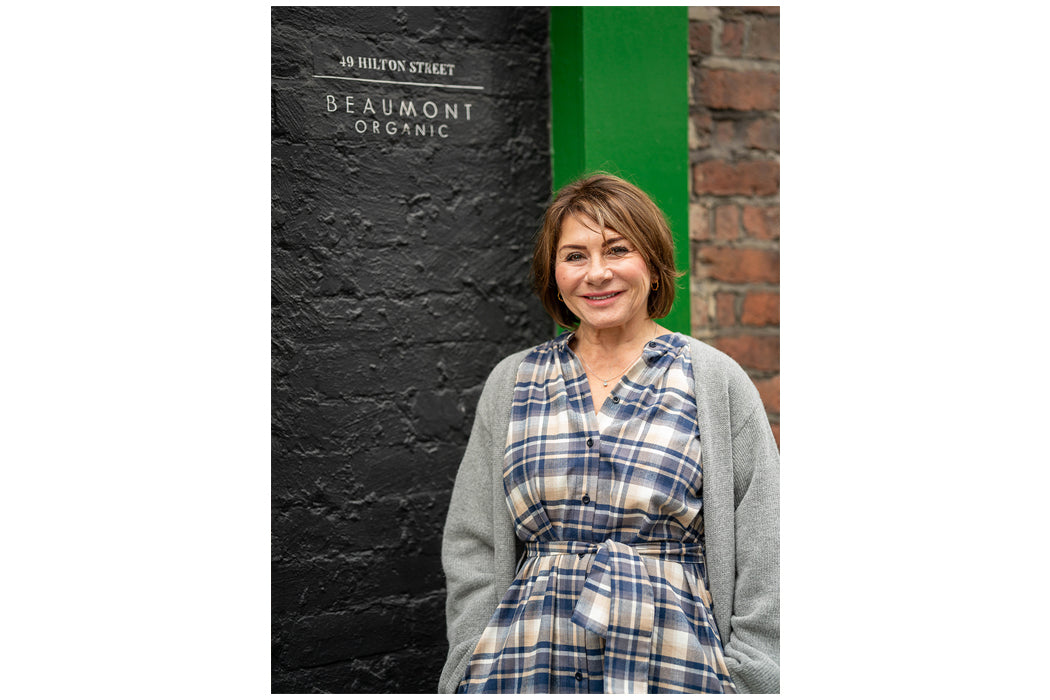 Our customers are at the heart of what we do. We pride ourselves in having many long term customers, who have been supporting us on our journey to make fashion more sustainable over the years.
In the run up to Christmas, we explore our Autumn Winter 21 collection through conversations with six women across the UK.
Hello Jan, Thanks for taking the time to talk to us!
Please start by telling us a bit about yourself, your career and lifestyle?
I am the Managing Director of Blemish Clinic, which is a private clinic offering Dermatology and Aesthetics. I established this company 18 years ago but my background is in Nursing and Clinical Research.
I became an authority in Photobiology, using light Therapy to treat Cancers and other skin diseases. I have undertaken many research projects and worked closely with companies to develop treatments in this area.
In my professional role, I am patient-facing and the front of my business from lecturing to advising medical research. Outside of work I am just as busy! I am an active and outdoor person and love pilates and walking my dog. 
How and when did you find out about Beaumont Organic?
My image is important to me; both in and out of work. I have an eclectic taste in clothing. My clothes must be great quality, trendy, and comfortable.
Equally important is the workers and that they get paid appropriately for the work they do and that's one of the many reasons I've been shopping at Beaumont Organic for the past 10 years.
How does the sustainability and slow living ethos of Beaumont Organic sit alongside your everyday values?
I am very aware of the extreme waste that happens in the world today. I like to shop organically and locally to assist my local community. 
I have spent enormous amounts of money on fashion in the past, but have become more conscious about who manufacturers it and how the material is resourced.
We think clothing can be transformative. How do the right clothes make you feel and why do clothes matter to you?

Looking good is very important to me. Wearing nice things makes me feel confident. I like people to compliment my dress sense.

My clothes must fit my petite frame. I dress to fit my body and persona - not to fit my age!
Has your relationship with clothes changed post-lockdown?
I do think my relationship with clothes have changed post lockdown. I am making better and more comfortable choices.
My shoes have changed considerably.
No more waste on heels I can only go' car to bar' in!!  
If you could change one thing about the fashion industry what would it be and why?
If I could change one thing about the fashion industry it would be a broader range of petite clothing in more varied fabrics.
If you had to pick a favourite from the new collection, what would it be and why?

The Alessandra jumper - its now my go-to piece in the morning. Comfortable, relaxed but also trendy and stylish.
And do you have any favourites from past Beaumont Organic collections that you wear on repeat?
 
I have a longish grey v neck dress I wear in the house. I really could not tell you how many times I have washed it over the years. I love it!! When it eventually wears out, I really do not know how I will replace it. It's thick enough jersey not to see through it, but light enough to lounge or even lie in bed in.  

Jan is wearing:
Marge Dress in Peppercorn
Alessandra Jumper in Washed Black
Georgette-Tay Dress in Tartan
Whitney Cardigan in Grey
Blythe Jumper in Drift
Valda Trousers in Army
Trina Top in Army

Accessories
Porto Clutch