Real Women Series: Meet Nicola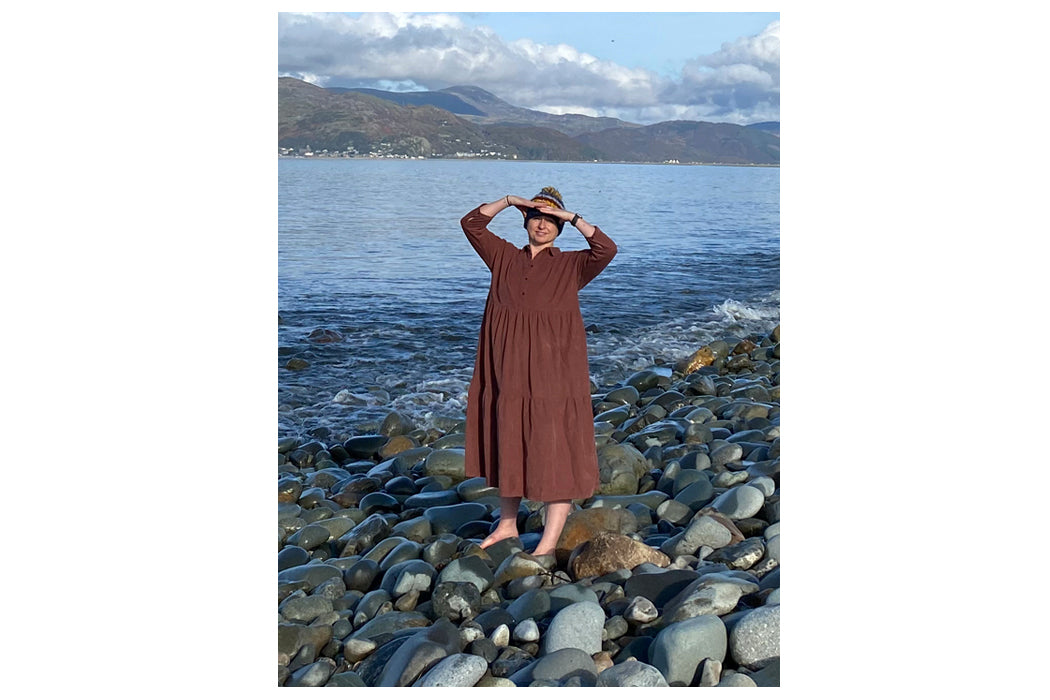 Our customers are at the heart of what we do. We pride ourselves in having many long term customers, who have been supporting us on our journey to make fashion more sustainable over the years.
In the run up to Christmas, we explore our Autumn Winter 21 collection through conversations with six women across the UK.
Hello Nicola, Thanks for taking the time to talk to us!
Please start by telling us a bit about yourself, your career and lifestyle?
I've been working within the holistic world for over 20 years. Initially treating and rehabilitating injuries and in the later years helping people and their families improve their overall health through beautiful organic food, nutrition, movement, sleep, breath and reducing their mental and environmental toxic loads. Through my experience of working with bodies I soon came to realised that we need to look at so many aspects within our lives and others around us to truly heal injuries and trauma,
to be happy and pain free.
I have since trained as a Naturopathic Nutritionalist and Yoga teacher, firstly to improve myself and my families lifestyle and learn how to use nature to support and when needed, to heal ourselves with what nature has given us in abundance. I now help people through a combinations of hands on treatments as well as nutrition and lifestyle recommendations. I believe if we work with compassion and consideration for the environment we live in, our bodies reap the rewards of living in less toxic surroundings and open ourselves up to absorb the energy gifted to us by the earth.
I have two amazing kids, Bodhi and Farleigh. I, like most parents would say, 'am completely obsessed with them!' I am bringing them up in the least chemical environment as possible and as I continue to learn new healthy 'hacks', I pass my new finding onto them. They are very aware of recycling, zero waste groceries and healthy food choices. Bodhi understands why we use organic and where possible, local produce to make our bodies and minds feel good and keep us happy.
They are super cute when they ask me for tummy herbs if their tummy is abit 'bubbly', join me in a morning for yoga and concentrate on their breathing when they are frustrated or hurt from falling over, calm themselves down. My children are definitely my best teachers. They strengthen the way I work regards children's brain health and nutrition, which is where I feel my specialism will lie!

How and when did you find out about Beaumont Organic?
I was asked to make organic canapés for a new collection launch party actually this is when I discovered the brand's amazing clothes.

They are right up my street; organic fabrics, ethically sourced and beautifully crafted to last the length of time. I always wear Beaumont Organic whilst doing my nutrition workshops and in my leisure time
when I'm not painting (we are renovating ATM) or gardening!
I love the yoga collection.

How does the sustainability and slow living ethos of Beaumont Organic sit alongside your everyday values?
Myself and my family live as organic and holistic as possible and love to raise awareness of the importance of living in harmony with the earth. We try to teach the kids that by looking after the environment around us, we are looking after ourselves and by looking after ourselves we are looking after our environment. Bodhi is 6 and already tries to teach his friends about chemical free products, recycling and herbal to keep him healthy!
We think clothing can be transformative. How do the right clothes make you feel and why do clothes matter to you?

Having lovely fitted clothes to suit your body is priceless. If I'm not happy or comfortable with what I'm wearing, it really effects my confidence and the enthusiasm which filters into my talks to motivate and excite others to want to make changes to help themselves, their families and the environment around them!
What does your everyday wardrobe look like?
Well it's not a perfect as I would like, as I said we are refurbishing a home presently. But outside that, I use The Beaumont Yoga Collection when I'm treating clients as they are soo comfy and stylish and then in the evening when I'm out I generally wear loose fitted dresses where I feel most confident and comfortable.
Has your relationship with clothes changed post-lockdown?
I'm pretty consistent with my clothes during the day around the house but I do want to wear more dresses and make going out feel that little bit more special now when we are lucky enough to catch up with friends and family. I make everything more of an occasion these days and appreciate wearing lovely clothes during these times.
If you could change one thing about the fashion industry what would it be and why?
I would want people to really appreciate each garment they buy. With a view to keeping them for a long time. I'm not someone that supports buying a garment for one occasion or buying lots of cheaper items with a view to perhaps wearing them only a couple of times before discarding them, ultimately adding to landfill, low payed wages and pesticides used on non organic cotton which are a shocker for the
environment. 

If you had to pick a favourite from the new collection, what would it be and why?
The Cass Dress in Rouge.
It's ridiculously comfy and soft, I love the autumn hue and it's very flattering.
And do you have any favourites from past Beaumont Organic collections that you wear on repeat?

I love the Terry in Black; I've worn it loads, it's so versatile, I can dress it up and down according to where I'm heading to or the temperature.
I also wear the Sasha-Sue lots in summer!
Nicola is wearing: