food for thought
Brussels Sprout Tart with Walnut Pesto
Christmas leftovers?

Transform them into this tasty and quick meal from Oh My Veggies.
Ingredients

150g cup raw walnuts
150g cup parmesan cheese shredded and divided
2 tbsp olive oil
salt and pepper to taste
1 tbsp butter
1 shallot thinly sliced
450g Brussels sprouts trimmed and thinly sliced
1 medium apple cored and thinly sliced
1 tbsp maple syrup
1 tbsp chopped fresh thyme
2 puff pastry sheets thawed according to package directions
2 tbsp dried cranberries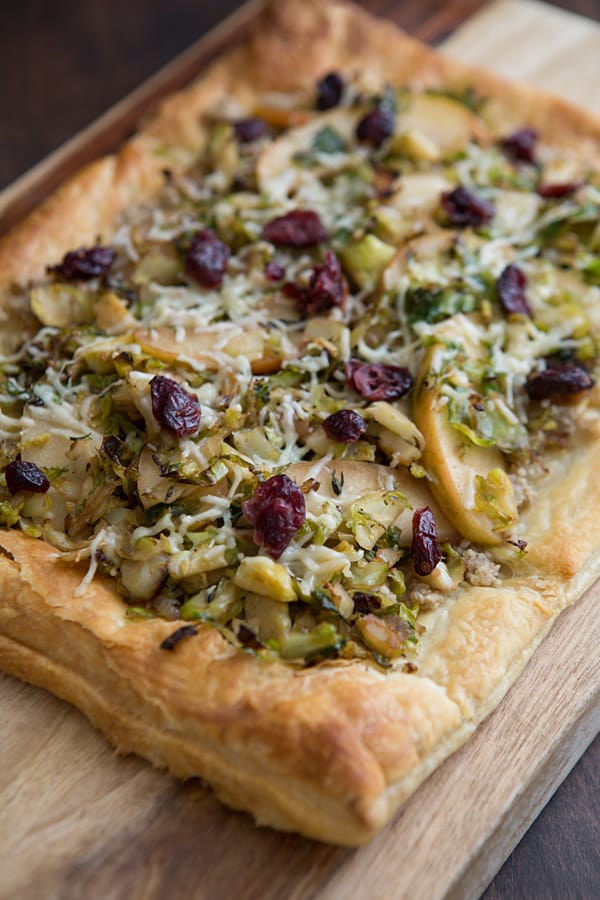 Instructions
Preheat oven to 425°F.
Put the walnuts, ¼ cup of cheese, and olive oil in a food processor and process until crumbly. Season with salt and pepper.
Heat the butter in a large skillet over medium heat. Add the shallot and cook for about 5 minutes, until softened. Stir in the Brussels sprouts and apple slices; cook about 10 minutes more, or until apples and sprouts are beginning to brown. Stir in the maple syrup and thyme, then remove from heat and season to taste with salt and pepper.
Place the puff pastry on baking sheets lined with parchment paper; roll the pastry out to about 9x12 inches.
Bake for 8–10 minutes, or until the pastry is puffed and golden brown. Gently press down the center of the pastry, leaving a 1-inch margin on all sides.
Sprinkle the pesto onto the crust, then top with half the cheese, the sprouts and apples, then the remaining cheese. (You might have some of the sprout mixture leftover.)
Return to the oven for 5 more minutes to melt the cheese, then top with the cranberries.
Cut each tart into 6 pieces and serve.
about the writer
Oh My Veggies
Nicole is a life long vegetarian and the author of the popular vegan cookbook, Weeknight One Pot Vegan Cooking. She loves sharing her recipes and showing the world just how easy and delicious meatless meals can be!
For more recipies visit: https://ohmyveggies.com.